Virusdanger.com

Manos | Cooking | Alchemy | Nodes | Imperial | Old Imperial | CP | Crates | Knowledge



This page is now kept here for legacy viewing.
However, I have added a new tool to calculate out probabilities from "chances"!
Want to see what the real probabiility is? >>>Probabilitiy Calculator HERE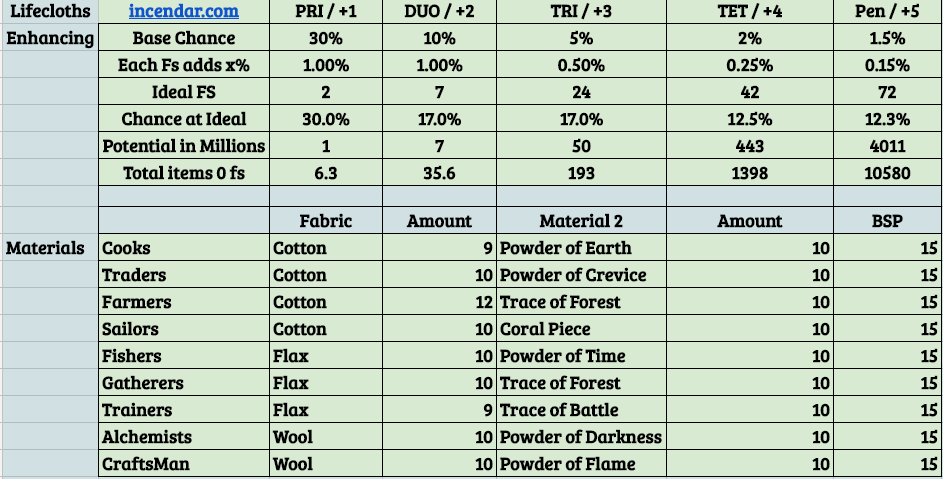 PRI DUO TRI TET PEN those Lifeskill clothes
Know your costs and chances See Below:
UPDATED 1-12-19 : There are possible changes coming with Manos.


| | | | | | |
| --- | --- | --- | --- | --- | --- |
| Number of Failstacks | PRI +1 Chance | DUO +2 Chance | TRI +3 Chance | TET +4 Chance | PEN +5 Chance |
| 1 | 31% | 11% | 5.5% | 2.25% | 1.65% |
| 2 | 32% | 12% | 6.0% | 2.50% | 1.80% |
| 3 | 33% | 13% | 6.5% | 2.75% | 1.95% |
| 4 | 34% | 14% | 7.0% | 3.00% | 2.10% |
| 5 | 35% | 15% | 7.5% | 3.25% | 2.25% |
| 6 | 36% | 16% | 8.0% | 3.50% | 2.40% |
| 7 | 37% | 17% | 8.5% | 3.75% | 2.55% |
| 8 | 38% | 18% | 9.0% | 4.00% | 2.70% |
| 9 | 39% | 19% | 9.5% | 4.25% | 2.85% |
| 10 | 40% | 20% | 10.0% | 4.50% | 3.00% |
| 11 | 41% | 21% | 10.5% | 4.75% | 3.15% |
| 12 | 42% | 22% | 11.0% | 5.00% | 3.30% |
| 13 | 43% | 23% | 11.5% | 5.25% | 3.45% |
| 14 | 44% | 24% | 12.0% | 5.50% | 3.60% |
| 15 | 45% | 25% | 12.5% | 5.75% | 3.75% |
| 16 | 46% | 26% | 13.0% | 6.00% | 3.90% |
| 17 | 47% | 27% | 13.5% | 6.25% | 4.05% |
| 18 | 48% | 28% | 14.0% | 6.50% | 4.20% |
| 19 | 49% | 29% | 14.5% | 6.75% | 4.35% |
| 20 | 50% | 30% | 15.0% | 7.00% | 4.50% |
| 21 | x | 31% | 15.5% | 7.25% | 4.65% |
| 22 | x | 32% | 16.0% | 7.50% | 4.80% |
| 23 | x | 33% | 16.5% | 7.75% | 4.95% |
| 24 | x | 34% | 17.0% | 8.00% | 5.10% |
| 25 | x | 35% | 17.5% | 8.25% | 5.25% |
| 26 | x | 36% | 18.0% | 8.50% | 5.40% |
| 27 | x | 37% | 18.5% | 8.75% | 5.55% |
| 28 | x | 38% | 19.0% | 9.00% | 5.70% |
| 29 | x | 39% | 19.5% | 9.25% | 5.85% |
| 30 | x | 40% | 20.0% | 9.50% | 6.00% |
| 31 | x | 41% | 20.5% | 9.75% | 6.15% |
| 32 | x | 42% | 21.0% | 10.00% | 6.30% |
| 33 | x | 43% | 21.5% | 10.25% | 6.45% |
| 34 | x | 44% | 22.0% | 10.50% | 6.60% |
| 35 | x | 45% | 22.5% | 10.75% | 6.75% |
| 36 | x | 46% | 23.0% | 11.00% | 6.90% |
| 37 | x | 47% | 23.5% | 11.25% | 7.05% |
| 38 | x | 48% | 24.0% | 11.50% | 7.20% |
| 39 | x | 49% | 24.5% | 11.75% | 7.35% |
| 40 | x | 50% | 25.0% | 12.00% | 7.50% |
| 41 | x | x | 25.5% | 12.25% | 7.65% |
| 42 | x | x | 26.0% | 12.50% | 7.80% |
| 43 | x | x | 26.5% | 12.75% | 7.95% |
| 44 | x | x | 27.0% | 13.00% | 8.10% |
| 45 | x | x | 27.5% | 13.25% | 8.25% |
| 46 | x | x | 28.0% | 13.50% | 8.40% |
| 47 | x | x | 28.5% | 13.75% | 8.55% |
| 48 | x | x | 29.0% | 14.00% | 8.70% |
| 49 | x | x | 29.5% | 14.25% | 8.85% |
| 50 | x | x | 30.0% | 14.50% | 9.00% |
| 51 | x | x | 30.5% | 14.75% | 9.15% |
| 52 | x | x | 31.0% | 15.00% | 9.30% |
| 53 | x | x | 31.5% | 15.25% | 9.45% |
| 54 | x | x | 32.0% | 15.50% | 9.60% |
| 55 | x | x | 32.5% | 15.75% | 9.75% |
| 56 | x | x | 33.0% | 16.00% | 9.90% |
| 57 | x | x | 33.5% | 16.25% | 10.05% |
| 58 | x | x | 34.0% | 16.50% | 10.20% |
| 59 | x | x | 34.5% | 16.75% | 10.35% |
| 60 | x | x | 35.0% | 17.00% | 10.50% |
| 61 | x | x | 35.5% | 17.25% | 10.65% |
| 62 | x | x | 36.0% | 17.50% | 10.80% |
| 63 | x | x | 36.5% | 17.75% | 10.95% |
| 64 | x | x | 37.0% | 18.00% | 11.10% |
| 65 | x | x | 37.5% | 18.25% | 11.25% |
| 66 | x | x | 38.0% | 18.50% | 11.40% |
| 67 | x | x | 38.5% | 18.75% | 11.55% |
| 68 | x | x | 39.0% | 19.00% | 11.70% |
| 69 | x | x | 39.5% | 19.25% | 11.85% |
| 70 | x | x | 40.0% | 19.50% | 12.00% |
| 71 | x | x | 40.5% | 19.75% | 12.15% |
| 72 | x | x | 41.0% | 20.00% | 12.30% |
| 73 | x | x | 41.5% | 20.25% | 12.45% |
| 74 | x | x | 42.0% | 20.50% | 12.60% |
| 75 | x | x | 42.5% | 20.75% | 12.75% |
| 76 | x | x | 43.0% | 21.00% | 12.90% |
| 77 | x | x | 43.5% | 21.25% | 13.05% |
| 78 | x | x | 44.0% | 21.50% | 13.20% |
| 79 | x | x | 44.5% | 21.75% | 13.35% |
| 80 | x | x | 45.0% | 22.00% | 13.50% |
| 81 | x | x | 45.5% | 22.25% | 13.65% |
| 82 | x | x | 46.0% | 22.50% | 13.80% |
| 83 | x | x | 46.5% | 22.75% | 13.95% |
| 84 | x | x | 47.0% | 23.00% | 14.10% |
| 85 | x | x | 47.5% | 23.25% | 14.25% |
| 86 | x | x | 48.0% | 23.50% | 14.40% |
| 87 | x | x | 48.5% | 23.75% | 14.55% |
| 88 | x | x | 49.0% | 24.00% | 14.70% |
| 89 | x | x | 49.5% | 24.25% | 14.85% |
| 90 | x | x | 50.0% | 24.50% | 15.00% |
| 91 | x | x | x | 24.75% | 15.15% |
| 92 | x | x | x | 25.00% | 15.30% |
| 93 | x | x | x | 25.25% | 15.45% |
| 94 | x | x | x | 25.50% | 15.60% |
| 95 | x | x | x | 25.75% | 15.75% |
| 96 | x | x | x | 26.00% | 15.90% |
| 97 | x | x | x | 26.25% | 16.05% |
| 98 | x | x | x | 26.50% | 16.20% |
| 99 | x | x | x | 26.75% | 16.35% |
| 100 | x | x | x | 27.00% | 16.50% |
| 101 | x | x | x | 27.25% | 16.65% |
| 102 | x | x | x | 27.50% | 16.80% |
| 103 | x | x | x | 27.75% | 16.95% |
| 104 | x | x | x | 28.00% | 17.10% |
| 105 | x | x | x | 28.25% | 17.25% |
| 106 | x | x | x | 28.50% | 17.40% |
| 107 | x | x | x | 28.75% | 17.55% |
| 108 | x | x | x | 29.00% | 17.70% |
| 109 | x | x | x | 29.25% | 17.85% |
| 110 | x | x | x | 29.50% | 18.00% |
| 111 | x | x | x | 29.75% | 18.15% |
| 112 | x | x | x | 30.00% | 18.30% |
| 113 | x | x | x | 30.25% | 18.45% |
| 114 | x | x | x | 30.50% | 18.60% |
| 115 | x | x | x | 30.75% | 18.75% |
| 116 | x | x | x | 31.00% | 18.90% |
| 117 | x | x | x | 31.25% | 19.05% |
| 118 | x | x | x | 31.50% | 19.20% |
| 119 | x | x | x | 31.75% | 19.35% |
| 120 | x | x | x | 32.00% | 19.50% |
| 121 | x | x | x | 32.25% | 19.65% |
| 122 | x | x | x | 32.50% | 19.80% |
| 123 | x | x | x | 32.75% | 19.95% |
| 124 | x | x | x | 33.00% | 20.10% |
| 125 | x | x | x | 33.25% | 20.25% |
| 126 | x | x | x | 33.50% | 20.40% |
| 127 | x | x | x | 33.75% | 20.55% |
| 128 | x | x | x | 34.00% | 20.70% |
| 129 | x | x | x | 34.25% | 20.85% |



Incendar.com, Incendar, Incendar Gaming, Incendar Coding, Incendium, Incendius, Incendara, Incendario, Mincendar © About Discord Donate

Incendar 2004-2020 RSS
Black Desert Online © 2015-2019 Kakao Corp Pearl Abyss
Sitemap